Hello, My name is Donna Stevens.
Welcome to My Homepage!

I am married to Roger a native Texan.
Iam from Florida. We were married March 20,1990. March 20, 2010 was our 20 year wedding Anniversary.


In July 2001 We made Nevada our home
and we love it here, theres always something to see and do in Reno,
Yet we have the quite of country living in the valley of Sparks.
I hope to add some pages in future of our area.

...And be content with such things as ye have...Hebrews 13:5 ~~*~~*~~*~~*~~*~~*~~*~~*~~*~~*~~*~~*~~*~~*~~*~~*~~*~~*~~*~~*




Love is called the song of Angels.
With love,heaven touches the earth.
the divine brushes the ordinary.
and words and deeds become richer.
A touch of heaven enters your life
with the kind acts and gentle words
that come so natuarally when
they're given on wings of love.

author unknown.



A special page for Roger on our 10 year Anniversary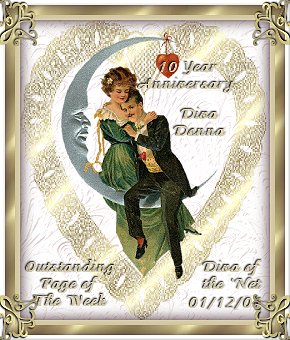 On Jan 12,2004 This award was given to me by My Diva sisters
For Outstanding Page of the Week : For the Special page I made for my
husband for Ten year anniversary.
This March 20,2004 will be our 14 Year anniversary.

Time Sure has flown March 20,2007 makes our 17 year anniversary.
and I have never been so much in love.I thank God everyday for giving Roger to me.




Graphic used with special permission by Joan Kirk,
Please do not take


There is no greater love than the love that holds on when there seems nothing left to hold on to. G.W.C. Thomas